Kids Wagon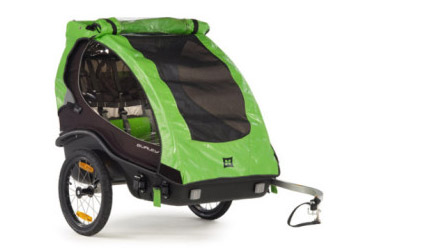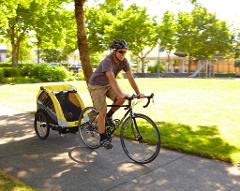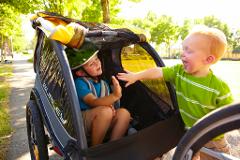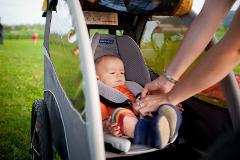 Location: Santa Monica, CA
$10 - 2 Hours
$15 - Half Day
$20 - Full Day
Equipment may be rented for up to 14 days.
Our kids' wagon has seating for one or two children and includes cutting edge features such as bowed-out sides for enhanced shoulder room, tinted UV protected windows, and retractable sunshade.
The wagon has a carrying capacity of 100 lbs (45 kg) making it suitable for small children.
For infants younger than one year of age (or those who are small) we offer the Burley Baby Snuggler (only one in stock), available for selection under the "Extras" page of this reservation (this option allows for two children to fit inside the wagon at the same time).

You may also choose to use your own baby car seat for your infant. *Note: if using your car seat only one child will fit inside the wagon.
THIS WAGON IS ONLY COMPATIBLE WITH OUR CITY BIKE RENTAL:
https://smbikecenter.rezdy.com/7197/city-bike
or it can be attached to your own bike so long as you have a quick release skewer on your rear wheel.

We only have 1 kids' wagon in our fleet. Please select the date you will be reserving and click "confirm availability". You will be asked to select how long you want to ride in the next page. ALL RESERVATIONS ARE NON-REFUNDABLE. If you are not sure how long you will ride, simply select the two hour minimum in the next page. If you ride beyond two hours you will pay the difference at our shop upon your return. You may keep the rental for as long as you like.

24 hour advanced reservation required.
Rentals available for pick up between: 7am - 6pm Monday - Friday & 8am - 10am Sat - Sun. Reservations will only be held for up to one hour past the scheduled pick up time, after which your rental will become available to the public.
Be prepared to provide a Credit Card or Passport for a mandatory deposit at the time you come to pick up your rental.

-Helmet, lock and riding map included with each rental (lights also available).
-2 hour rental minimum.
-Full day rentals are due back same day by closing time. Multi-day rates are available upon request.
-Must sign a release contract to rent; ride at your own risk.
-Must be 18 years old to rent or come with parent/guardian to sign for you at time of rental.
-24 hour advance reservation required.